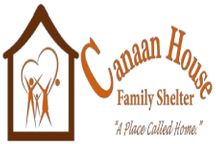 Open 24 hours a day. 7 days a week.

Canaan House is a non profit organization that caters to the needs of homeless, broken , down trodden  men women and children.
Canaan House Family Supportive Housing is a Transitional Housing program  that provides a safe, healthy and nurturing environment for homeless women and their children to rebuild their lives and break the vicious cycle of homelessness, poverty and violence off their lives. Guests can reside at Canaan House from 9-months to one year. Staff works intensely with each participant to set goals for work, school, relationships, and long-term, stable housing.
Canaan House Family Supportive Services in Los Angeles. We offer extensive case management, employment assistance and parenting classes, anger management classes, domestic violence classes and spiritual counseling.