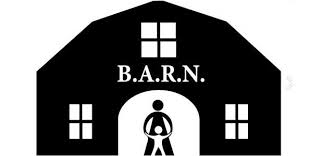 Transitional housing for homeless women and their dependent children for up to two years.

Shared living for up to 12 families at a time.

The program:

Intensive on site Case Management, Life Skills and Child Development Services.

Self-sufficiency through employment and the ability to sustain independent permanent housing are outcome measures for this program.

Initiated by the Benedictine Sisters of Virginia, BARN is now a nondenominational, collaborative project, supported by federal, state and local grants, corporations, foundations, community groups, local churches and concerned individuals. BARN is incorporated in the Commonwealth of Virginia and has been designated a 501(c)(3) non-profit organization by the IRS.

BARN can serve a maximum of 12 families. 

BARN normally has 12 mothers and between 20 and 24 children in the house.

The average length of stay is about 14 months.

BARN is a private non-profit 501(c) 3 organization funds come from HUD, the State, private foundations such as Freddie Mac, corporate donors, individual donors, and fundraising events.
Type: non profit