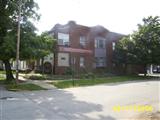 Hours
Monday

9:00 AM - 8:00 PM

Tuesday

9:00 AM - 8:00 PM

Wednesday

9:00 AM - 8:00 PM

Thursday

9:00 AM - 8:00 PM

Friday

9:00 AM - 8:00 PM

Saturday

closed

Sunday

closed
Last-Modified: 2021-04-15 08:53:32

Christian Recovery Reentry Program for former Inmates struggling with substance abuse issues. Jail or Prison modifications and pre releases, qualifying for RECOVERY WORKS Funding. Weekly cost is $120 (or 25% of gross pay up to 40 hours) whichever is less. Office Hours are 9am-8pm. Behavior compliance, can work full-time after 90 days of Moral Reconation Therapy, CBT Workbooks, and 12 Step Spiritual Journey, and meetings.
Mission Statement: Worthy Women Recovery Home is a Christian home that provides recently incarcerated and/or at-risk women with re-entry programs and the tools necessary to reduce recidivism rates and substance abuse addiction, while empowering them to be positive role models for their children and communities.