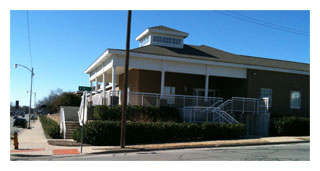 Applications accepted on Tuesdays at 2:00 PM at 1421 Austin Ave, Waco, TX 76701. Call office to schedule interview if cannot come on Tuesday at 2:00 PM.

After approval for the waiting list, applicants must call-in weekly in order to remain on the waiting list. The waiting list is approximately 1-2 months, but changes on a week-to-week basis.


Eligibility Requirements:

Be at least 18 years of age

At risk of homelessness or homeless families with children

Full-time employment (35+ hrs. per week)

Pass alcohol/drug screening upon move-in

Have no assault charges



Participant is expected to:

Remain alcohol and drug-free

Meet weekly with assigned caseworker

Maintain full-time employment

Pay 30% of income toward rent, with a portion returned at successful completion of the program to obtain permanent housing

Attend weekly budgeting classes

Complete life skill classes each month as assigned by caseworker

Complete assigned daily chores at the facility



Program features and benefits:

While living in the facility, Compassion Ministries provides services to residents that include:
family counseling, job training/search, drug/alcohol abuse treatment, after-school daycare, children's programs, transportation, literacy training, health care, social and domestic skills, using in-house staff and in conjunction with local agencies currently providing support services.

Compassion Ministries provides transitional housing in our shelter facility. Residents live in their own on-site, fully-furnished apartment that includes: kitchen/dining area, living room, bathroom and bedroom space. Residents only are required to bring personal items and clothing.

For residents who successfully complete the program, a portion of their rent will be available to use for securing permanent housing, furniture, and household items

Successful completion of the program is defined as:

- completing the required Life Skill requirement

- completing at least 12 credited sessions of the required weekly budget/employment meetings

- leaving with permanent full-time employment with documented proof of at least twelve (12) weeks of full-time employment (a minimum of thirty-five (35) hours per week) while living at Compassion

- moving into some form of permanent housing

- having paid at least the last two months of rent on time at Compassion Ministries

- compliant with the policies and procedures of Compassion Ministries.



Length of program duration

3 – 6 months*

*Exemplary residents of our program can apply for a 6 month extension at the end of their first 6 months. 12 months is the longest duration for Extension Residents.


Type: non profit